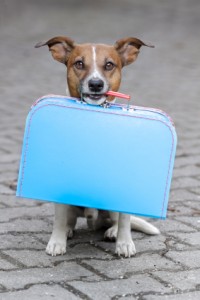 Click here for our Vaccination Requirements!
We keep a maximum of 36 dogs in this ward and they do not co-mingle. This is for the safety of your dog.
We recommend that our boarded dogs be up to about Labrador Retriever size but not larger.
Our canine guests receive 4 walks each day (2 morning walks & 2 evening walks.)
We have highly trained staff committed to your pets' safety and well being.
There is a veterinarian available during regular clinic hours and on call should any medical issue appear while your pet is with us.
Every pet admitted for boarding is current within 1 month for application of Flea Prevention to ensure no Fleas go home on your pet.
Every pet admitted for boarding is current for a fecal exam (microscopic exams for intestinal parasites) to ensure no intestinal parasites go home with our furry friends.
Each pet's stay is documented in its clinical record so that appetite, weight, attitude, and elimination can be monitored. Any change from normal is an indicator for a doctor to be notified.
We still have our cat ward in front of the clinic for our feline friends to enjoy. This area provides a great view of the street with plenty of sunshine, and is separate from the dog ward to lessen anxiety for the cats.
Our feline guests are also tended to twice daily. However, they are also frequently seen all day.
Each cat's stay is documented in its clinical record so that medical issues are not missed. Amounts of food offered and eaten are monitored, weights are monitored, and veterinarians are notified if any issue develops.
Special diet and / or medication can be ordered if needed
We consistently strive to provide excellence in healthcare for pets. Please don't hesitate to contact us with any questions. We are here for you.